BACK OFFICE
A clean and intuitive interface makes for easy navigation of the granular detail required by casino managers for day to day operations.

Monitoring
View player, game round and jackpot history or get a quick overview of your Smart Spins marketing campaign.

Managing
Set up reports for export, big win notifications and automated marketing campaigns across one or several brands

Reporting
View bonus usage summaries, jackpot history, game transaction archives and detailed individual campaign reports.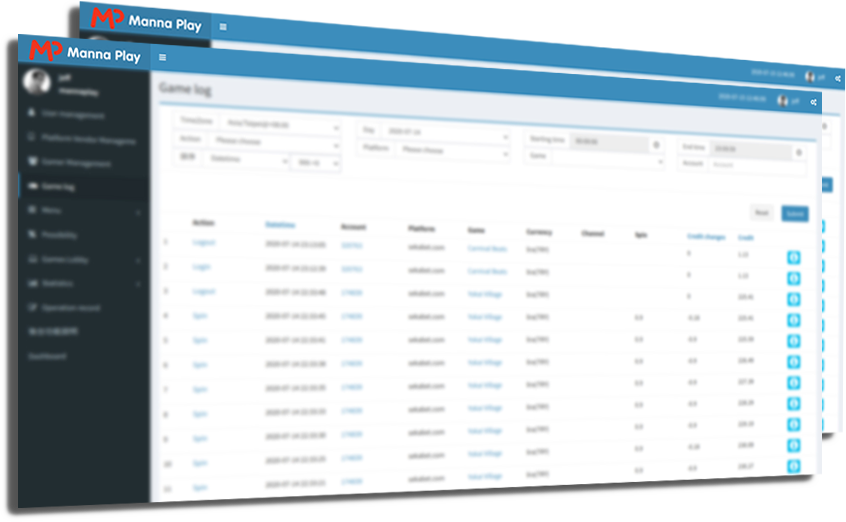 Manna Play™ staunchly believes that all great marketing decisions are made on quantitative data, which is why we had initiated Manna Play™ Back Office, a platform initiated to provide operators across the globe with comprehensive and detailed real-time data to increase revenue and boost profit margin.

Efficient
Manna Play™ Back Office can provide real time data of players and revenue with zero delay to all operators.

Powerful
Manna Play™ Back Office is developed to be as secure and stable as possible so operators will have access to their systems 24/7 and 365 days all year long.

Documented
All knowledge developers need to complete the integration is available inside the application, including full API documentation.
We are always looking to build meaningful relationships, if you're interested in adding Manna Play games to your operations, or would like to start a casino operation distributing Manna Play games, please get in touch using the form below.  We would love to hear from you!